PRODUCTS

| PERISTALTIC PUMPS
ROBUST PUMPS

WITH LARGE SIZE ROLLERS
Peristaltic
Technology
PeriBest Pumps
The revolutionary roller system of the PeriBest hose pumps offers major advantages and benefits compared with other more traditional pumping technologies and other peristaltic pumps on the market, above all in difficult abrasive, corrosive, viscous or shear-sensitive product applications.
Maximum resistance to abrasion
Unmatched suction capability
Indefinite dry running
No valves or mechanical seals

 

Gentle and reversible pumping
Full dosing control
Industrial, corrosion resistant and food versions
Dosing accuracy of ±1%
Advantages of PeriBest Pumps compared with,
Hose pumps with shoe technology. Energy savings of up to 30%. Ease of hose replacementWide range of operation. Low starting torque.
Progressive cavity pumps. Allow dry running and have no mechanical seals. Simple adaptation to pumping of corrosive products.
Diaphragm dosing pumps. Easy to install, better suction and better performance with solid and viscous products.
Air operated diaphragm pumps. Incomparable efficiency and absence of valves that make the passage of solids difficult.
Difficult products are not a problem.
We like them!
Abrasive products. Lime milk, activated carbon, sludges and slurries, among others
Corrosive products. Sodium hypochlorite, ferric chloride, hydrochloric acid, etc.
Viscous products. Water-based glues, greases, creams, resins, etc.
Shear sensitive products. Latex, polymers and flocculants, food products, etc.
THE BEST PUMP ON THE MARKET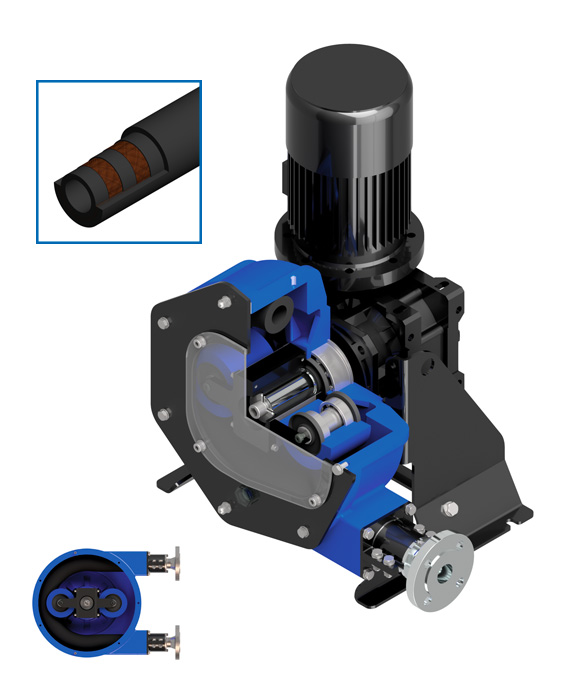 LATEST TECHNOLOGY PERISTALTIC HOSE

SAVING ON HOSE CONSUMPTION AND EASE OF INSTALLATION DOWNTIME OPTIMISATION.

EASE OF ASSEMBLY, OPERATION AND MAINTENANCE

SAVING ON MAINTENANCE COSTS AND EASE OF ASSEMBLY, LESS DOWNTIME.

EXTREMELY HEAVY DUTY DESIGN FOR THE MOST DEMANDING APPLICATIONS UP TO 10 BAR

UNMATCHED PUMP LIFE AND EXCELLENT EQUIPMENT PERFORMANCE UNDER ANY OPERATING CONDITIONS HOWEVER DEMANDING.

XXL ROLLER TECHNOLOGY

MAJOR ENERGY SAVINGS, HIGHER NUMBER OF HOSE WORKING HOURS AND EASE OF OPERATION.