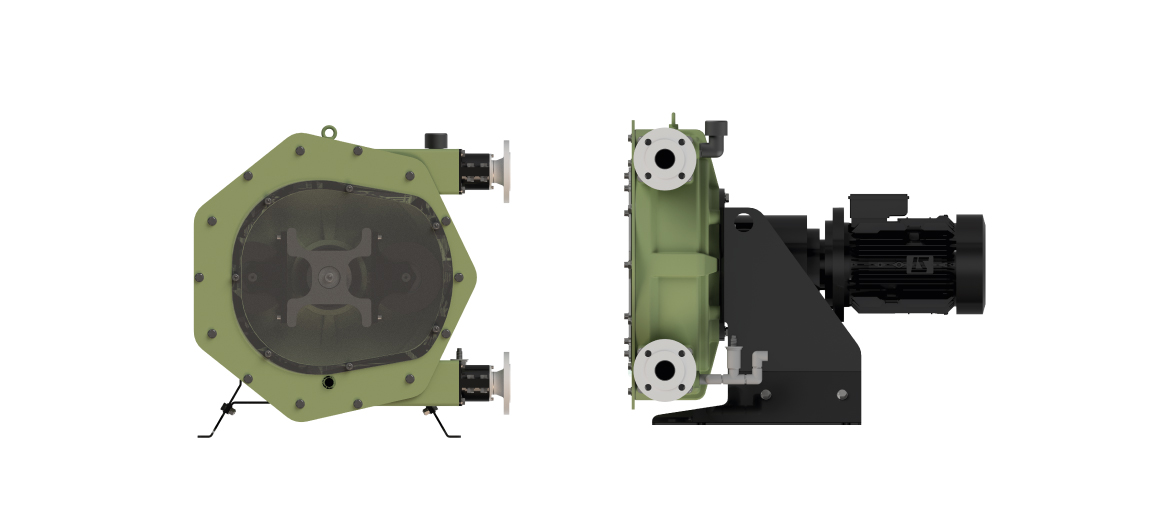 Corrosion-resistant peristaltic pumps PERIBEST
C43 · C55
Transfer and dosing with maximum efficiency and durability
The C43 and C55 models complete the PeriBest corrosion-resistant peristaltic pump line with a flow rate range between 1000 and 17000 l/h. This can be extended by means of a double-head pump up to 34000 l/h.
These two models are perfect for dosing operations of all types of corrosive and difficult products, where, thanks to the excellent flow rate control, the constant flow rate in variable pressure applications and the gentle pumping, accuracies of up to ±1% can be achieved. They are also ideal for transfer applications of fluids that are highly abrasive, viscous or contain solids in suspension, as the pump has a large solid size capacity. The lack of valves and mechanical seals, in addition to the heavy duty and horizontal monoblock design with bearing box, makes the PeriBest peristaltic pump a very robust and ideal option for any pumping application, however difficult it may be. The indefinite dry running and the suction capacity of up to 9.5 mWc complement the capacities of the PeriBest product range. 
The chemical version adds a series of specifications to the standard pump to produce a unit that is fully protected and resistant to corrosion. 
The latest generation peristaltic hose in NR or EPDM
Pump casing and front cover coating in TEFZEL®

 

Plastic connections in polypropylene or PVDF
Hose leakage sensor

 

Pump and roller lip seals in EPDM
Corrosion-resistant rollers
Drainage system
The installation of the bearing box in the pump casing provides perfect alignment as well as full absorption of the loads on the reducer shaft. 
The bearing box is made up of a central hub which supports the reinforced and oversized bearings plus the pump shaft in order to achieve a compact and very robust assembly. The incorporation of this assembly provides unbeatable robustness and strength to the pump, even in the most severe conditions with pressures of up to 10 bar and in continuous working applications. Maintenance costs are minimised, system downtime is reduced and the life of the reducer is extended.