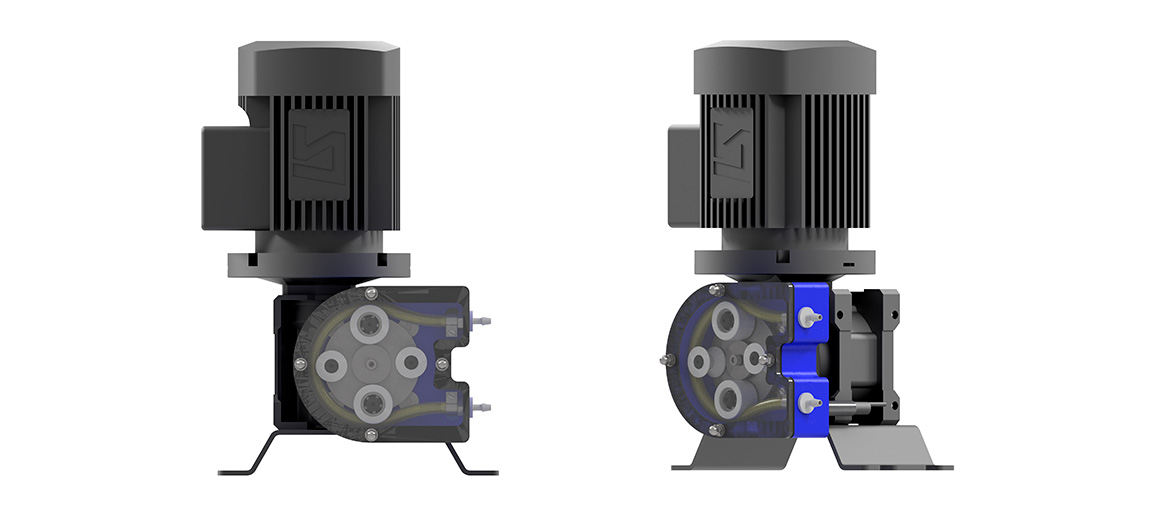 PERIBEST T05 peristaltic tubing pump
Robust industrial design for small volume dosing
The T05 industrial tubing pump is built for demanding tasks at pressures of up to 4 bar thanks to a very heavy-duty design featuring large rollers with integrated bearings. When combined with an industrial gear motor, the T05 pump can be used in continuous applications operating 24/7 with all of its components offering excellent durability. The pump flow rate can be controlled either locally, by installing a motor with a built-in frequency converter, or from a control panel, via a 4-20 mA signal.
The body of the pump is made from high-density polyethylene and is completely hermetic; the use of O-rings and lip seals prevents the possibility of any leaks. And all this is supported by a tube rupture sensor which is included with the standard version. This adds up to the perfect design for pumping highly corrosive products in totally safe, corrosion-free conditions, thereby avoiding expensive leaks that commonly occur with most peristaltic tubing pumps on the market.
The Nylon® rollers and guides ensure excellent tube compression while significantly simplifying maintenance operations, streamlining tube changes and, therefore, reducing downtime. The T05 is a very competitive unit, ideal for customers seeking a robust solution with straightforward, inexpensive electronics. 
Performance curve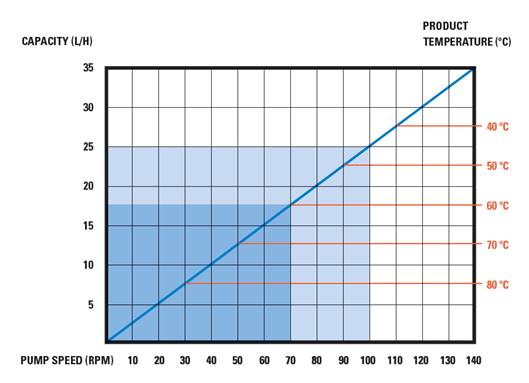 The main applications for which the T05 peristaltic tubing pump offers an unbeatable performance and stable dosing are:
High-suction applications. Dry suction capacity of up to 9.5 mWC.
Gas-emitting products. Capable of pumping gases without any problems.
Products containing solids that block or soil the valves.
High-viscosity products, up to 10,000 cPs.
Variable pressure applications. The operating pressure does not affect the flow rate.
All of which would encompass some very important reference applications such as:
Sodium hypochlorite dosing.
Polymer dosing.
Dosing of lime milk and activated carbon slurries.
Sodium hydroxide dosing.
Dosing of acids (hydrochloric, ferric chloride, sulphuric, etc.).
Additive dosing in the food industry.
Dosing of any products using high-suction levels (double-walled tanks).
Dosing of any viscous products (up to 10,000 cPs).